Are you dreaming of a swimming pool in your backyard to cool down the hot summer days? We are here to make that dream into a reality. Our manufacturers build a variety of pools that are made to last, boasting gorgeous yet practical features suited to any climate or lifestyle. Affordable, stylish, and fast to construct, fiberglass pools are a solid investment your family and guests will enjoy for years. Out of all pool construction materials, the fiberglass surface requires the LEAST amount of maintenance on a daily/weekly basis. This mean less time spent on cleaning and less money spent of chemicals. Structurally speaking, fiberglass shells are impervious to normal wear and tear, as well as elements like sun and harsh weather.

OUR BRANDS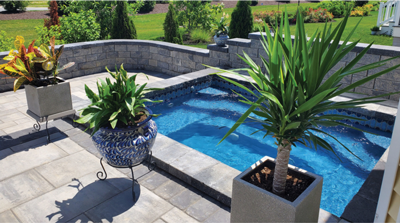 We are a proud dealer of Swim USA Pools, a leading inground fiberglass swimming pool manufacturer. Their pools are manufactured with pride in the United States of America. With the best warranty in the Industry, SwimUSA Pools is the ONLY fiberglass pool manufacturer that offers an ALL INCLUSIVE 3-Year surface warranty to cover the pool's surface. Check out all their pool models available
HERE
---
New to our offerings of fiberglass pools is Imagine Pools. Imagine having everything you ever dreamed of, right in your backyard. That's the beauty of Imagine Pools™. From design, to delivery, to installation, to years of trouble-free ownership… every aspect of your pool is, quite literally, seamless. These swimming pools are crafted with marine-grade technology and Centurion Core™ Construction and backed with a Lifetime Structural and a Lifetime Structural Osmosis Warranty.
Learn more about Imagine Pools
---